Posted by Chris on Dec 6th 2018
GLIDE Bearings and Seal Systems
Here at propshopinc.com we are excited to announce that we are now carrying GLIDE Bearings and Seal Systems as our newest product line. Read on to learn about the different items we will be carrying and hopefully answer any questions you may have. In our previous article, I went over ski, wakeboard, & surf boats, in this article, we will be taking a look at general marine applications.
GLIDE ULTRA Marine Shaft Seal Systems (GMSS ULTRA)
The GLIDE ULTRA Shaft Seal System is high quality, made in The USA, and relatively easy to install. Boaters and fishermen have been replacing their bronze packing / stuffing boxes and old dripless shaft seals with The GMSS ULTRA system and from the installation process to the product's durability, we have heard nothing but good things.
Below I will list some of the ULTRA's features, but I would like emphasize how easily and quickly you can change to the included spare seal should the need arise. In order to change seals, it takes about 5 minutes without flooding the bilge! Watch the video below to see how quick, easy, and dry the seal change is.
Features of the GLIDE ULTRA Shaft Seal System: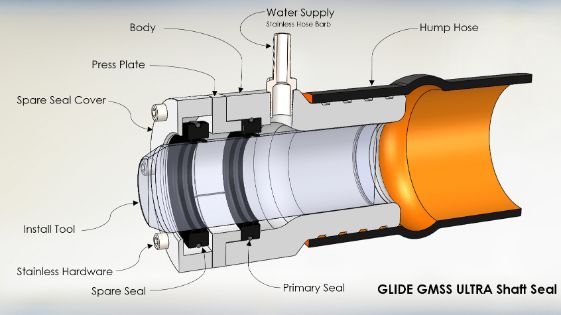 Change seal in 5 minutes without flooding the bilge
Body and cover made of exclusive GLIDE 100 Polymer
Dripless
Seal Vault face plate with 2-axis seal retention
Double lip seal, 100% TFE Teflon Seal
Replaces bronze stuffing / packing box
Slide & Lock grooves for added hose retention
What's included?
Complete housing w/ primary seal and install tool
Secondary/ spare seal
Silicone reinforced shaft log hose
4 SS T-bolt clamps
Reinforced water supply hose with SS clamps and allen wrench for servicing (not pictured)
For more information about GLIDE ULTRA Shaft Seal Systems and to see which products we offer, click here